THERE can be little doubt that Bristol & West AC's silver medal in the National 12-Stage Road Relay Championships at Sutton Park on Saturday is one of the finest achievements since the club re-branded in 2003.
It is the third time the club has finished on the podium in the past four years and matches the silvers they won in 2017. The difference this year is that the current squad completed the course five minutes quicker – 4hrs 14mins 33secs to 4:19.55 – and along with champions Leeds City and third-placed Aldershot Farnham & District broke the old course record.
It was a performance that gave Mike Down, who is joint team manager with Chris Elson, belief that the Holy Grail of winning the trophy again to emulate the legendary team of 1980 is within grasp if the squad can continue to improve.
"The men's team that exceeded our expectations by taking the silver medals behind this season's all-conquering Leeds City squad is arguably the best the best team the club and the city of Bristol has ever had," purred Down (pictured right).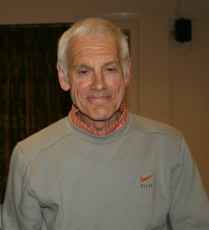 "I know it might seem crass to compare it with the legendary record-breaking 1980 team that is the only one to have won the event, but that year they did not even medal in the  Midland Championship beforehand, nor in the preceding National cross-country championship, so by any yardstick this year's team is undoubtedly the most successful overall the club has ever had."
Comparisons are always fun but ultimately fruitless. What is certain is that the team performed superbly on Saturday showing admirable consistency, especially on the short stages with five of the squad posting times that made the top 25 of the day.
Kurt Taylor continued his amazing improvement his winter with the fastest mark of 15:31, the 11th quickest overall, followed by Mike Wilsmore on the glory stage, Callum Jones, Owain Jones and Josh Moody.
On the long stages pride of place went to Pete Le Grice, who unleashed a storming run to haul the team into a podium place for the first time as he moved from fifth to third on stage nine with a time of 25mins 43secs.
That was the equal fifth fastest of the day and only 10 seconds slower than celebrated GB international Andy Vernon.
"With Aldershot's international Richard Allen ahead of him and expected to consolidate their second place behind Leeds,
it looked as if the bronze medals were the best we could hope for, " added Down.
"But Pete's progress this winter has gone largely under the national radar and no respecter of reputations he inexorably closed the gap on Allen to almost catch him at the takeover and move us up to third in the remarkable time of 25:43 which is our quickest ever long leg and fifth fastest long stage of the day behind a quartet of Britain's current
leading distance runners – Alex Yee, Dewi Griffiths, Phil Seseman and Vernon."
Owain Jones, Jack Millar and Wilsmore secured the silver medals with the latter doing enough to keep a fast-finishing Aldershot six seconds adrift for a thrilling finale.
A great finish to a memorable day.
National Road Relay Championships, Sutton Park, Birmingham – men's 12 stage: 1 Leeds City AC 4hrs 12mins 21sxecs: 2 Bristol & West AC 4:14.33 (William Christof (14) 26:50, Kurt Taylor     (7) 15:31, Harry Allen     (10) 27:16, Callum Jones     (6) 15:39, Jarlath Mckenna (7) 27:08, Richard Peters   (7) 16:04, Daniel Studley   (6) 26:07, Josh Moody       (5) 15:47, Peter Le Grice   (3) 25:43, Owain Jones     (2) 15:43, Jack Millar     (2) 27:08, Michael Wilsmore (2) 15:37); 3 Aldershot Farnham & District 4:14.39.
25 Bristol & West AC   'B' 4:34:32 (1st B team) (Jed Bartlett     (44) 28:38, Alberto Beltran (37) 16:15, Jack Bancroft   (27) 27:21, Billy Cochrane   (29) 17:25, Andrew Drake     (32) 29:55, Miles Chandler   (31) 16:59, Andrew Watt     (27) 28:26, Adam Wilson     (25) 16:50, Peter Bains     (27) 29:38, Otis Mondir     (26) 16:59, Graham Breen     (26) 28:40,        Nick Roberts     (25) 17:26).
Women's 6-stage: 1 Leeds 2:10.40; 2 Herne Hill Harriers 2:11.31; 3 Birchfield Harriers 2:12.06.
10th B&W 2:23.40 ( Issie Talbot Price   (16) 31:29, A Duranmingo     (18) 19:38, Ellen Harrison   (15) 19:51, Catie O'Donoghue (14) 33:50, Amy Partridge   (10) 19:07, Sarah Everitt   (10) 19:45).