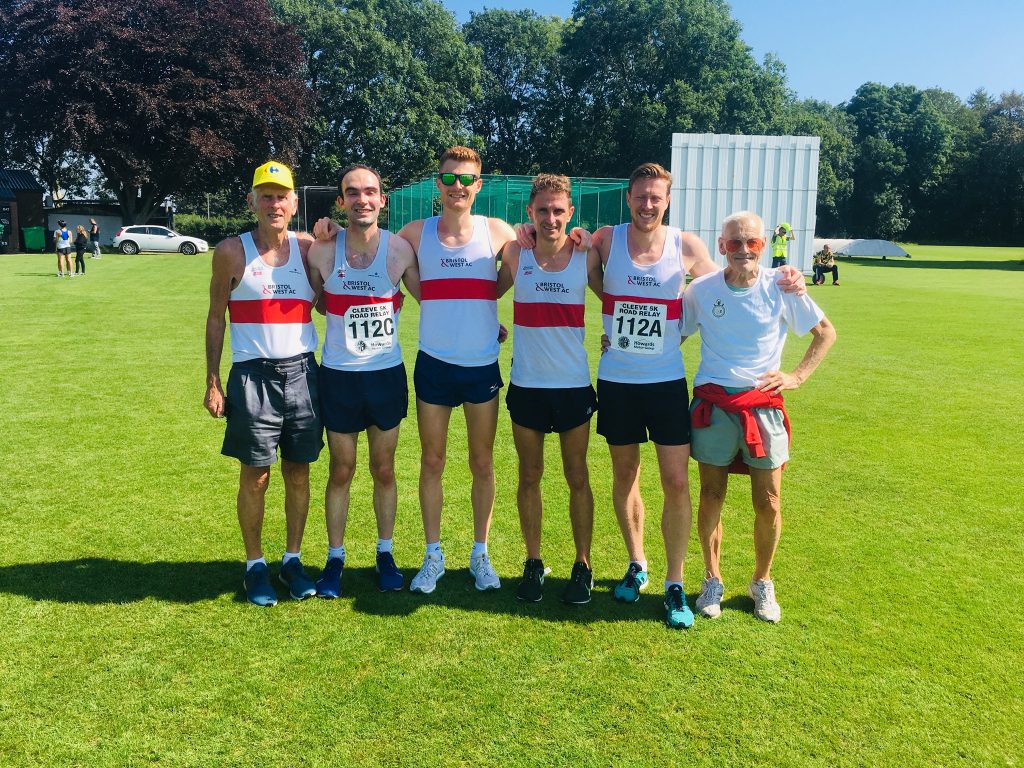 Champions: (L to R): Team manager Chris Elson, Jack Bancroft, Harry Allen, Andrew Chambers, David Awde and team manager Mike Down
BRISTOL & West AC set a new course record when retaining their senior men's title at the Cleeve 5K Festival of Running Road Relays over the weekend.
The squad of David Awde, Harry Allen, Jack Bancroft and Andrew Chambers finished over three minutes clear of nearest rivals Wells City harriers in the event which also incorporated the South West and Avon County Championships.
Allen, who broke the course record to win the Westbury 5k race last week, briefly held another record on Sunday as he clocked 15mins 10secs for the challenging circuit.
That carved 15 seconds off the record mark set by GB junior cross country international Luke Prior on stage one, which in turn shaved five seconds off Oliver Stone's previous mark.
Allen's time came on stage as he propelled Bristol & West into the lead and with Jack Bancroft also dipping inside Fox's old time on stage three the race title was effectively wrapped up even before Andrew Chambers delivered another strong run on the fourth and final stage.
But the most sparkling performance of the day was yet to come as 18-year-old Max Davis (pictured below), who competes for Wiltshire club Avon Valley Runners and lives in Bath, tore around the course in a time of 14mins 48secs.
"Max's time stunned everyone there," said his coach Steve Williams.
It certainly did and confirms that Davis, who won a silver medal for Avon in the senior boys' 3000m at the English Schools' Championships last month, is one of the most exciting young runners in the West Country.
While Davis delivered the best run of the day the biggest name in the event was undoubtedly GB international Gemma Steel.
Steel, who knows the event organiser Stuart Hancock, came down for a visit and agreed to appeared alongside the Bristol & West AC pair of Charlotte Taylor-Green and Rosie Hattersley – the club strangely failed to find a third runner to make a legitimate team to defend their title – in an All-Stars team racing as guests.
Not surprisingly the All-Stars finished first by almost three minutes with Steel easily the quickest runner of the day but the official South West title went to the Cornwall SC trio of Heidi Tregenza, Imogen Wood and Abbie Milnes so all credit to them for making the long trip north on a red-hot day.
The Westbury Harriers veterans' squad of Vicky Tester, Catherine Treble and Lucy Richens were third.
Men's 4x5k: 1 Bristol & West AC 1:02.15 (David Awde 16:12, Harry Allen 15:10, Jack Bancroft 15;20, Andrew Chambers 15;33); 2 Wells City Harriers 1:05.34 (Luke Prior 15:25, Zak Hurrell 16:44, Chris Green 16:43, Sam Sommerville 16:42); 3 Clevedon AC 1:06.04 (Alex Crossland 15:47, Sam Tabberner 16:21, Robbie Stewart 17:19, Luke Murray 16:37); 4 B&W B 1:06.08; 5 Avon Valley Runners 1:08.19; 6 B&W C 1:08.54; 7 Westbury Harriers 1:09.47; 8 Westbury M40s 1:10.28.
Fastest: Max Davis (U20) 14:48 (record); 2 Harry Allen 15:10; Jack Bancroft 15:20; Luke Prior 15:25.
Women's 3x5k: 1 All Stars Open (guests) 53:02 (Charlotte Green 17:30, Rosie Hattersley 18:27, Gemma Steel 17:05); 2 Cornwall AC 55:59; 3 Cornwall AC B 57:51; 4 Westbury Harriers W35 58:00 (Vicky Tester 19:19, Catherine Treble 19:08, Lucy Richens 19:33).
Fastest: Gemma Steel 17:05; Charlotte Taylor-Green 17:30; Heidi Tregenza (Cornwall) 18:08.
Men's over 50s: 1 Bristol & West AC 54:57 (Tony Roper 17:46, Richard Bowles 19:45, Philip Parry 17:26); 2 Westbury Harriers 59:02; 3 B&W M60s 63:09.