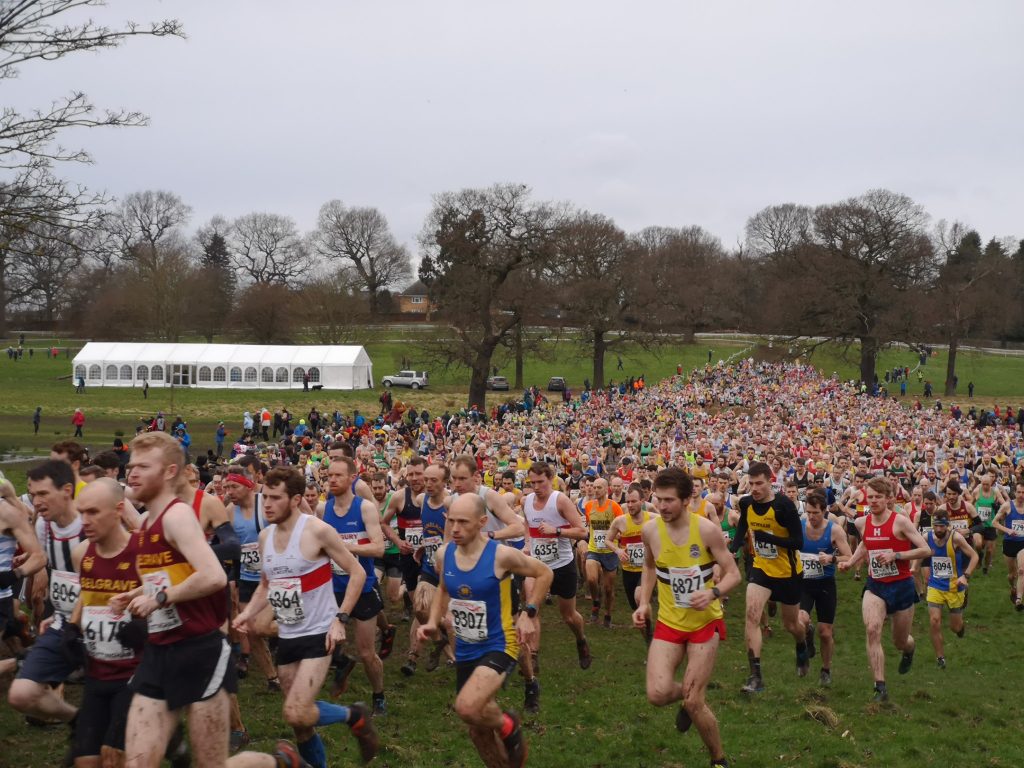 On their way: The mass start of the senior men's race with Bristol & West's Andrew Watt (6364) in the thick of the action
IN A typically competitive event Bristol & West AC's senior men are today celebrating a fantastic set of team bronze medals in the English National Cross Country Championships.
The six-strong squad thrived in the mud and heavy conditions at Woolaton Park, Nottingham, scoring a total of 297 points to secure third spot for the second time in two years.
Jack Millar led the way in the mud with an excellent 10th place while both Peter Le Grice and Callum Jones also made the top fifty.
The next three scorers ran superbly as a unit with Kurt Taylor 69th, Andrew Chambers 70th and Owain Chambers 72nd.
Intriguingly two the club's best hopes of making the top 50, South West champion Felix McGrath and Will Christofi clearly didn't enjoy the conditions and were well below expectations.
The medals were hard-earned as just 66 points covered winners Tonbridge AC to Highgate Harrier sin fifth, with Bristol & West just holding off Bedford & County AC by five points to make the podium.
In addition, the club finished second in the nine-scoring team competition with Andrew Watt, Jed Bartlett and Josh Moody all finishing strongly.
Teams (6 to score): 1 Tonbridge AC 243; 2 Leeds City AC 277; 3 Bristol & West AC 297; 4 Bedford & County AC 302; 5 Highgate Harriers 309; 6 Aldershot Farnham & District AC 348.
9 to score: 1 Tonbridge 530; 2 Bristol & West AC 633; 3 Highgate Harriers 642.
B&W: 10 Jack Millar; 33 Peter Le Grice; 43 Callum Jones; 69 Kurt Taylor; 70 Andrew Chambers; 72 Owain Jones. Non- scoring: 104 Andrew Watt; 110 Jed Bartlett; 122 Josh Moody; 128 Will Christofi; 148 Felix McGrath; 165 Jarlath McKenna.