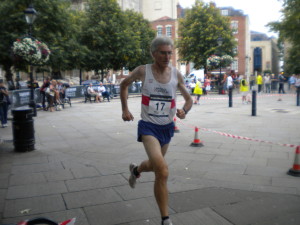 DAVE Bedwell and Anne Dockery were both gold medal winners at the British Masters Track & Field Championships last weekend.
Bedwell (left), still keeping impressively fit in-between his coaching commitments, won the over 65s 1500m in a time of 5mins 12.70secs.
Fellow Bristol & West AC clubmate Dockery won gold in the over 70s 800m and then added silver in the 1500m.
Behind her in both races was Westbury Harriers' coach Pat Gallagher, with a silver in the 800m and bronze in the 1500m.
Sarah Everitt was a double medal winner with silver in the over 50s 1500m and bronze in the 5000m while Bristol & West team-mate Clare Jolliffe (both pictured right) won bronze in the 15000m and silver in the 5000m.
British Masters M65 1500m: 1 Dave Bedwell (B&W) 5:12.70.
W50 1500: 2 Sarah Everritt (B&W) 5:16.73; 3 Clare Jolliffe (B&W) 5:23.44; 5000: 2 Jolliffe 19:33.20; 3 Everritt 19:38.95.
W70 800: 1 Anne Dockery (B&W) 3:24.12; 2 Pat Gallagher (WH) 3:51.80; 1500: 2 Dockery 6:42.00; 3 Gallagher 7:55.94.