WESTBURY Harriers' veteran Oli Beale pulled off a superb victory in the Avon Cross Country Championships.
The 40-year-old (pictured above) admitted afterwards it was his first county medal as he ran a strong, aggressive race to finish fourth overall in the annual Tri-Counties event comprising Avon, Somerset and Wiltshire at Bath University.
"That is the first time I have even won a county medal and when I found out I was Avon champion it was really nice," said Beale.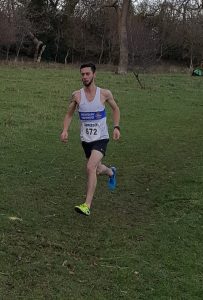 To round off a great day Beale also led the Harriers squad of Alex Hamblin (right), Anthony Glover (below), Richard Noble, Ken Ham and Matt Swaine to overall victory in the Tri-Counties Championships.
"We had a strong team out so it was really good to add the team title as well," added Beale.
Westbury Harriers also enjoyed a good day in the young athletes' races picking up four individual titles through Ben Rawlins (U20 men), Seamus Robinson (U15 boys), Rosie Hamilton-James (U17 women) and Dalis Jones (U15 girls) while they also cleaned up in the U17. 15 and 13 girls' team titles.
It was a good day for the Hobbs family as well with mum Maria claiming the bronze medal in the Avon senior women's championships and daughter Ellie runner-up in the Under 20/17s age group.
Until the closing stages of the senior women's race it looked highly likely that Catie O'Donoghue would retain the title she won in the snow 12 months ago.
But O'Donoghue paid for her aggressive tactics in trying to stick with pacesetter and ultimate champion Kate Drew of Taunton AC and was caught on the final climb before entering the finish straight by her Bristol & West clubmate and training partner Izzy Talbot Price.
"Catie went off very hard with the girl from Somerset and I only caught her going up the hill at the end of the final lap," said 21-year-old Talbot Price, who is a veterinary science student at Bristol University.
"I feel I have stepped up quite a bit over the past year and that is nice."
Double act: Izzy Talbot Price and Catie O'Donoghue
Mind you it is worth noting that O'Donogue drove straight to the race with Talbot Price after finishing a night shift at Bristol Children's Hospital so could be forgiven for not feeling at her very best – not that you would hear that excuse from her at all.
Tri-Counties Cross Country Championships, Bath University – senior men: 1 Simon Nott (Calne) 34:10; 2 Phil Burden (Taun, M40) 34:45; 3 Simon Byrne (Swin) 35:11; 4 Oliver Beale (WH, M40) 35:36; 5 Joseph Donworth (Frome RC) 35:52; 6 Miles Chandler (B&W) 35:56.
Avon Champs: 1 Beale; 2 Chandler; 3 Will Crudgington (Team Bath) 36:37.
Somerset: 1 Burden; 2 Donworth; 3 Ben Hawkins (Taun).
Wiltshire: 1 Nott; 2 Byrne; 3 Sergio Martinez (Swin).
Teams – overall: 1 Westbury Harriers (Beale, Alex Hamblin, Anthony Glover, Richard Noble, Ken Ham & Matt Swaine); 2 Avon Valley Runners (Chris Roxburgh, Rich Harding, Gary MacAlister, Stuart Sellers, Tim Lerwill, Mike Sargeant); 3 Chippenham Harriers (Paul Gardiner, Andrew Duncan, John Keat, Nick Hancock, Richard Smith, Alwyn Royall).
Under 20 men: 1 John Howorth (TB); 2 Will Stockley (TB); 3 Ben Lloyd (Wells).
Avon: 1 Ben Rawlins (WH); 2 Justin Davies (TB); 3 Callum Smith (NSAC).
Under 15 boys: 1 Joe Ponter (Taun); 2 Seamus Robinson (WH); 3 Thomas Heal (Taun).
Avon: 1 Robinson; 2 Alexander Robinson (WH); 3 Cole Edmonds (B&W).
Wiltshire: 1 Robert Jones (New Forest Juniors); 2 Lukas Bailey (Sals); 3 Jack Gunning (Swin).
Under 13 boys: 1 Dylan Stoneman (TB); 2 Harry Maxwell (TB); 3 Jack Harvey (Wells).
Avon: 1 Stoneman; 2 Misha Evans (B&W); 3 Samuel Holloway (NSAC).
Wiltshire: 1 Maxwell; 2 Jacob Pritchard (Madja); 3 Henri Cotineau (Chipp).
Under 11 boys: 1 Charlie Coles (Sals); 2 Jacob Fleming (AVR); 3 Tom Howard (WH).
Senior women: 1 Kate Drew (Taun) 24:38; 2 Isabelle Talbot Price (B&W) 25:11; 3 Catie O'Donoghue (B&W) 25:20; 4 Helen Southcott (Wells) 26:04; 5 Kirstie Booth (Taun) 27:26; 6 Cordula Hurcum (Chipp) 27:35.
Avon: 1 Talbot Price; 2 O'Donogue; 3 Maria Hobbs (WH, W50).
Wiltshire: 1 Hurcum; 2 Emma Hines (Chipp); 3 Veryan Cranston (AVR).
Teams: 1 Chippenham Harriers (Hurcum, Emma Hines, Michelle Maxwell, Julia Maddocks); 2 Avon Valley Runners (Veryan Cranston, Gemma Lawton, Jennifer Marlow, Diane Hier); 3  Shrewton Running Club .
Under 20/17 women: 1 Elise Thorner (Wells); 2 Rosie Hamilton-James (WH); 3 Ellie Hobbs (WH).
Avon: 1 Hamilton-James; 2 Hobbs; 3 Anna Burt (TB).
Wiltshire: 1 Lucy Fitzpatrick (TB); 2 Catriona Edington (Madja); 3 India Ibbotson (TB).
Under 15 girls: 1 Bea Wood (Sals); 2 Dalis Jones (WH); 3 Alice Bridger-Morales (NSAC).
Avon: 1 Jones; 2 Bridger-Morales; 3 Ella Treby (TB).
Wiltshire: 1 Wood; 2  Lilly Jones (New Forest); 3 Lavinia Rai (Swin).
Under 13 girls: 1 Keira Devereux (NSAC); 2 Clementine Lee (WH); 3 Laura Chance (WH).
Avon: 1 Devereux; 2 Lee; 3 Chance.
Wiltshire: 1 Sophie Nicholls (Sals); 2 Naryani Costa Jafrate (Chipp); 3 Bella Rees (New Forest).
Under 11 girls: 1 Jasmine Spear (WH); 2 Daisy Sears (Sals); 3 Isabelle Hugill (WH).