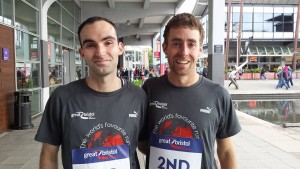 BRISTOL & West AC's Jack Bancroft cruised to victory in the Castle Combe Chilly 10k road race on Sunday in a time of 31mins 48secs.
Bancroft (pictured left with Tom Merson at the 2016 Bristol half marathon) blew away his rivals finishing over three minutes clear off John Lewis from Swindon Striders. Further down the field Simon Cardnell of Southville Running Club was sixth (35:50) while both Robert Farley of Bitton Road Runners (17th, 38:21) and Gary Hunt of Great Western Runners (19th, 38:40) also made the top twenty.
Westbury Harriers leading finisher was Ewan Patton in 34th (39:46). Top woman was Team Bath's Rebecca Pierce in 29th overall (39:19). There were 420 finishers.