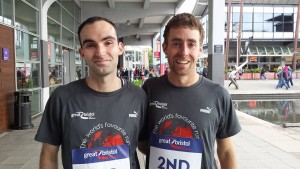 IGNORING all the controversy of whether they race should be held or not the decision of the Bristol & West AC contingent to run the Bath half marathon appears to have paid off handsomely.
Official results have yet to be confirmed but provisionally it seems as if the club clinched both the men's and women's team prizes on Sunday as half of the 12,000 field failed to show.
Cool, wet weather didn't help fast times but personal bests for Jack Bancroft (68mins 01secs and pictured above on the left with Tom Merson), Johnny Suttle (70:29), junior Joe Connors (70:10), Andy Drake (73:08) with Adam Stokes (71:00) also running well should earn the B&W men the team award.
Likewise, the women's squad of Annabel Granger (1:22.04), Issy Talbot-Price (1:24.43), Elaina Gard (1:26.53) and Amelia Atkinson (1:28.43) look to have wrapped up the women's prize.
Also worth a big mention is Liz Sanigar of Bitton Road Runners as she smashed her PB by five minutes with a time of 83mins 30secs that placed her first veteran over 35 just ahead of Weston AC's Susan Duncan (85:42) with Team Bath's Lizzie Wraith third (86:36).
Westbury Harriers' Lucy Richens finished fourth W40 in 83:12 and behind her former B&W middle distance track star Miranda Sadler clocked 90:19.
Team-mates: Annabel Granger and Issy Talbot-Price
In the men's race Sam Wilson of Great Western Runner finished in 71:48, slashing just over three minutes off his PB set last year while James Ralston of Southville Running Club clocked 71:59 to also dip well inside his previous best of 74:19.
Clevedon AC's leading man was Sam Tabberner in 65th with 72:46, shattering his three-year-old best of 75:12.