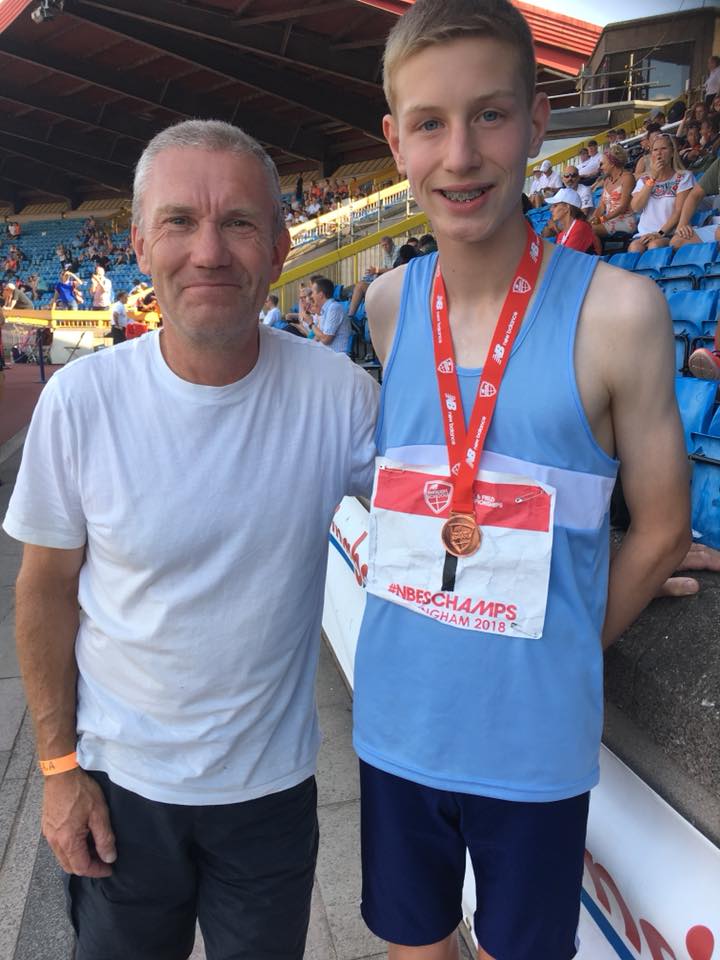 Top team: Coach Jeremy Dale with Luke Ball at last year's English Schools' Championships. Below Jess Lewis and Abdi Hasan
THE Avon team arrived in Birmingham today to prepare for the English Schools Track & Field Championships.
The action gets underway in the morning and one of the first local athletes in action will be one of their best medal hopes in Yate & District AC high jumper Luke Ball.
On paper the 14-year-old 6ft 1ins Castle School student from Thornbury looks set for the podium as he tops the UK Rankings for under 15 boys and his best of 1.93 puts him 10cms clear of his nearest rival.
With a bronze medal already on his CV from his debut in the event last year Ball also looks to have the temperament to succeed but coach Jeremy Dale, who is chairman of the club, will caution against complacency.
"We are hoping for big things but Luke knows he has to perform on the day," said Dale.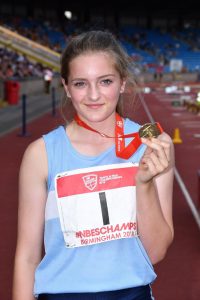 "You just don't know who will turn up so Luke will need to perform. But I know Luke has been focussed on this championships since last year's finished!"
Another Avon medal contender will be clubmate Toby Conibear. The 16-year-old Brimsham Green School student set a championship record and personal best of 63.60m when winning the South West Schools' inter boys' hammer title and that puts him third in the UK Under 17 Rankings.
Junior international sprint Hurdler Jenna Blundell, who is a student at South Glos & Stroud College (SGSC) in Filton, is determined to atone for missing out on the European Under 20 Championships with a medal on her final appearance in the event.
Fellow SCSC student Dan Brooks has opted for the senior boys' 100m and will do well to make the final such is the quality of competition.
Long jumpers Tia Jackson (SGS) and Alice Wilson (Kingswood, Bath) but injury has forced sprint hurdler Alexia Bennett Cordy, who is one of 18 athletes from Bristol & West AC named in the squad, to withdraw.
Reigning junior girls' javelin champion Jess Lewis was one of the stars of 2018 but she has now moved up into the inter girls' age group so will be under no pressure.
Likewise, both Backwell's Emma Bakare (senior triple jump) and Bristol Cathedral's Anna Loughlin (senior hammer) will be making their final appearances at the event and may cause a surprise.
In the middle distance Abi Hasan (senior 800m), Max Davis (senior 3000m) and Alex Parsons (inters 3000m) will all be looking to make an impression.
AVON SQUAD
Senior girls – 100: Khia'aama Kofi; 400: Jess Frazer; 100m Hurdles: Jenna Blundell; Relay: Khia'aama Kofi, Jess Frazer, Jenna Blundell, Tia Jackson; Long Jump: Tia Jackson; Triple Jump: Emma Bakare; Hammer: Anna Loughlin.
Inter girls – 200: Imogen Leakey; 800: Kate Howard; 80m Hurdles: Ellie Mount; 300m Hurdles: Alexia Bennett Cordy, Stephanie Brooks; 1500m S/C Enya Maylor; Relay: Imogen Leakey Ellie Mount Alexia Bennett Cordy Stephanie Brooks; Javelin: Jess Lewis, Libby Parker.
Junior girls – 100m: Chloe Marrett; 300: Lily Bailey; 800: Amelia Honor; 75m Hurdles: Naomi Dawson; Relay: Chloe Marrett Lily Bailey Alice Wilson Eleni Francis Long Jump: Alice Wilson, Eleni Francis; Shot: Maisie Johns; Hammer: Kacey Banks.
Senior boys – 100: Dan Brooks, Isaac Cory; 800: Abdifataah Hasan; 3000: Max Davis; 400m Hurdles: Harry Meredith; Relay: Dan Brooks Isaac Cory Harry Meredith Marcin Olech; Long Jump: Marcin Olech
Inter boys – 200: Max Elliott, Josh Maggs; 1500: Justin Davies; 3000: Alex Parsons; 1500 S/C: Steve Kerfoot; Triple Jump: Jedani Wright; Hammer Toby Conibear.
Junior boys – 1500: Seamus Robinson; 80 Hurdles Patrick Kyle; Long Jump: Dennis Alphonso; High Jump: Luke Ball; Discus: Joshua Schrijver.