FORMER Bristol & West runner Phil Wylie faces his most important fixture of the year tomorrow – he is getting married!
Wylie ((pictured) ties the knot with Chard-born teacher Keira Pearce at Watergate Bay in Newquay, which is where they first met several ye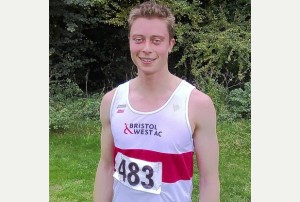 ars ago.
"Keir was a surf instructor down there when we met and we have been back to Cornwall many times since so we thought it wold be a good place to get married," said Wylie, who lives in Exeter.
Wylie has also just been named elite male duathlete of the year at the 2015 Great Britain Triathlon Federation annual awards held a Loughborough.
"To get the duathlete of the year award was a lovely accolade and a very surprising one," said Wylie.
"I think there were other people there who could have easily won it, in particular Mark Buckingham who was third at the World Championships in Australia recently.
"I felt that was enough to earn him the award this year but maybe the award recognises more than just one single performance and reflects other things as well over the course of the year.
"I feel very proud to have won it."