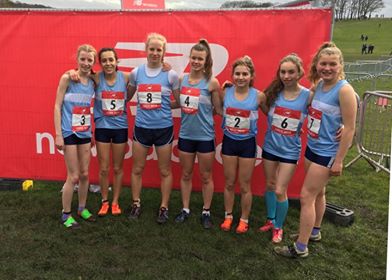 Top girls: Avon's intermediate girls' squad of (L to R): Ella Treby, Alice Bridger Morales, Kate Howard, Enya Maylor, Rosie Hamilton-James, Claudia Spice and Freya Spruit.
AVON'S inter girls' squad can take pride of place for their performance at the English Schools' Cross Country Championships, in Leeds, on Saturday.
Led by two finishers in the top fifty – Rosie Hamilton James in 33rd and Ella Treby 39th – the squad finished fifth team of 43 completed, 82 points off the bronze medallists.
The team also had great support from Claudia Spice, Freya Spruit, Katie Howard and Enya Maylor.
Individually Bath's Beechen Cliff School student Alex Parsons was the highest placed runner with 15th in the inter boys' race, a significant improvement upon his 46th in the same age group last year.
Any runner making the top twenty in this event marks a significant achievement.
In the senior boys' race Cotham School's Abdi Hasan led the county home in 25th with Backwell's Sam Gentry not far behind in 36th, both very creditable results.
Avon aces: Abdi Hasan and Sam Gentry
In the senior girls' race Castle School's Ellie Hobbs continued her recent fine form to place 25th with Sidcot School's Imogen Moroney 34th.
St Bede's student Seamus Robinson was also a creditable 24th in the junior boys' event while county champion Megan Hornung battled tenaciously to finish 54th on her debut in the event.
English Schools' Cross Country Championships, Leeds – senior boys teams: 18 Avon 694pts (25 Abdi Hasan, 36 Sam Gentry, 140 Ben Rawlins, 145 Callum Smith, 150 Sean Barry, 198 Greg Hayward).
Inter boys:13 Avon 600pts (15 Alex Parsons, 74 Fred Hawker, 109 Oliver Lock, 120 Alfie Hocking, 129 Ben Hamblin, 153 James Harrod).
Junior boys: 28 Avon 1003pts (24 Seamus Robinson; 105 Dylan Stoneman; 178 Ollie Campbell.
Avon's senior girls (L to R): Ellie Hobbs, Bridie Knox, Nelly Bridger Morales, Phoebe Gould, Lucy Tonge and Imogen Moroney.
Senior girls: 37 Avon 1230 (25 Ellie Hobbs; 34 Imogen Moroney)
Inter girls: 5th Avon 440pts (33 Rosie Hamilton James; 39 Ella Treby; 57 Claudia Spice; 76 Freya Spruit; 94 Katie Howard; 141 Enya Maylor).
Junior girls: 22 Avon 779pts (54 Megan Hornung; 98 Charlotte Warren; 115 Keira Devereux; 151 Clemmie Lee; 179 Amelia Honor; 182 Amy Nicholls).