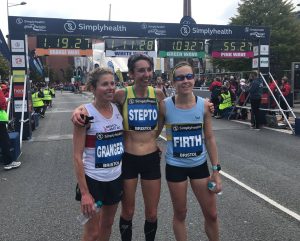 BRISTOL & West AC's Annabel Granger finished runner-up in the Chippenham half marathon on Sunday.
With the race incorporating both the South West Inter-Counties and Wiltshire Championships the field was stronger than usual and Granger was only beaten by Devon's Kirsteen Welch, who smashed her personal best by over four minutes with a time of 80:14.
Granger (pictured far left at the Bristol 10k) was only 13 seconds adrift as she ran her fastest time of the year, 25 seconds quicker than at Bath. Indeed, it was her quickest time for two years and lifted her to seventh in the South West Rankings.
The men's race was won by former B&W runner Tom Merson in a swift 66:09, which the Devon runner ran in splendid isolation after breaking clear shortly after the first mile.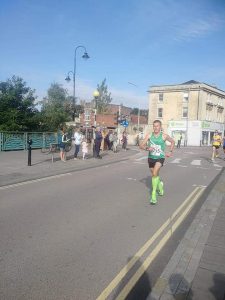 Calne's Simon Nott (pictured right) smashed his PB by over 40 seconds to finish runner-up and claim the Wiltshire title from Team Bath veteran Gary Dunstone.
Chippenham half marathon – men: 1 Tom Merson (Exmouth) 66:09; 2 Simon Nott (Calne RC) 68:04; 3 Ben Cole (Swin) 69:17.
Women: 1 Kirsteen Welch (Sidmouth RC) 80:14; 2 Annabel Granger (B&W, W45) 80:25; 3 Emma Stepto (CAC, W45) 81:26. 1036 finishers