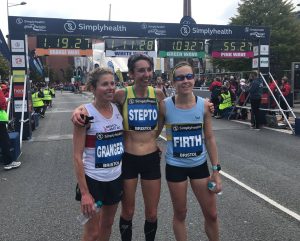 THE exploits of Annabel Granger have been chronicled on the blog for many years as she has been one of the most successful runners on the west country circuit.
Now in the veterans over 45s age group you might think she would be slowing down – but think again.
On Sunday Granger (pictured left at the Bristol half marathon a few years ago) completed her debut in the Virgin London Marathon in a time of 2hrs 47mins 43secs, which carved almost five minutes from the mark of 2:52.39 she recorded on her first attempt at the distance in York last year.
The quality of that run is underlined by the fact that it gave her second place overall in the W45-49 age group, puts her fourth in the 2019 South West Rankings and 28th in the UK.
Only Shettleston's Avril Mason, who ran a lifetime best of 2:43.54 on Sunday, has gone quicker in the W45-49 age group.
Granger's performance rounds off a great spell of form in which she finished runner-up overall in the Newport half marathon and ninth in the Bath half, clocking a time of 80mins 54secs, her fastest time since 2017.
While Granger was the leading local runners from Bristol she wasn't the first west woman across the finish line.
That honour went to former GB international marathon runner and now leading ultra trail/mountain exponent Holly Rush.
Rush, who lives in Bradford on Avon and now competes for Avon Valley Runners after several years at Team Bath, clocked 2:45.41 and was third in the W40-44 age group. Remarkably it was her third marathon in seven weeks after also completing Barcelona on March 10th (2:47.210 and Manchester on April 7th (2:46.48).
Taunton AC's Kate Drew went third on the South West Rankings with a PB of 2:45.48.
Of the local runners there were PBs for the Bristol & West AC runners Olivia Sadler (3:07.00), Naomi Aylwin (3:11.36) and Lucy Bird (3:16.23) while Lizzie Smith led the Westbury Harriers charge clocking 3:07.04 on her debut.
Jane Faram of Southville Runners was less than a minute off her PB with 3:04.05 to go 15th in the regional list while Weston AC's top woman was Susan Duncan with a PB of 3:09.00.
There was also a PB for Lauren Price, who was the top woman from Bitton Road Runners with 3:11.01, taking over five minutes from the PB she set over the same course last year.
Sub 3:20 women Kate Egan of Southville (3:17.01), Rachel Stowell of Bitton (3:17.25) and Bristol & West's Alice Doggrell (3:19.21) are all celebrating PBs this week.