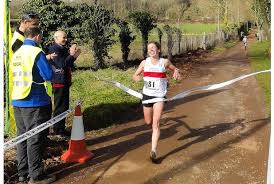 ANNABEL Granger made it three west half marathon wins in a row in Stroud yesterday.
The Bristol & West AC athlete (pictured) had already won in Cheltenham (September 27th, 81:10) and Exeter (October 18th, 81:16) and she completed her local hat-trick with a swift time of 79:43.
Indeed, Granger's time was her second fastest of the year only eclipsed by the 79:25 she recorded when finishing 20th woman and third veteran over 40 in Reading, which boasted a high quality field, in March.
Men: 1 Rob Keal (Notts, M40) 69:19; 2 Anthony Bailey (Chelt, M40) 72:58; 3 Dean Parker (Bournville, M40) 73:11; 4 Jordan Frapwell (Stroud) 73:22.
LOCAL: 9 Robert Farley (Bitt RR) 78:06; 10 Mike Blackmore (TBAC, M40 5th) 78:20;
Women: 1 Annabel Ganger (B&W W40) 79:43; Kate Jacobs (Swin) 82:43; 3 Shina Crombie-Hicks (Bourton RR, W40) 83:13.