BRISTOL & West AC's former marathon international Amy Chalk is turning her hand these days to race organisation.
Under the banner of a new company, Cadence Events, she resurrected the Sutton Benger 5 miles road race in north Wiltshire yesterday.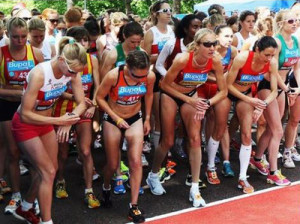 "We think it was the late 1980s when the race was last held from Sutton Benger School," said Chalk (who is pictured left in her heyday on the start line with Paula Radcliffe and Jo Pavey).
"I was keen to have a 5 miles race as I always thought it was a good distance to race but sadly there aren't many of them around these days."
Stroud's Josh Dixon dominated the men's race to win in a highly respectable time of 25mins 51secs – especially as the course was strewn with leaves, debris and puddles thanks to Storm Angus – almost four minutes clear of the field.
In fourth and picking up the veterans' over 40s award was Sam West of Bitton Road Runners.
Bitton clubmate Sandra Mylchreest finished sixth woman among the field of 159 finishers from a capped entry of 200 runners.
Sutton Benger 5 – men: 1 Josh Dixon (Stroud) 25:51 2 Michael Passmore (HRC) 29:44; 3 William Trew (Chipp) 29:52; 4 Sam West (Bitt RR, M40 1st) 30:14.
Women: 1 Eilidh Bell (Chipp) 30:52; 2 Jenny Creed (unatt) 34:19; 3 Caroline Blake (Chipp, W45) 34:51. Local: 6 Sandra Mylchreest (Bitt RR, W45)36:06; 8 Louise Jeffries (TB, W55 1st) 37:26.