THERE seems to be no stopping the Hobbs sisters at the moment.
Both finished in the medals at the South West Schools' Cross Country Championships at Truro School  on Saturday with Hannah suffering the worst of the conditions of heavy rain while the sun came out for Ellie's inter girls' race.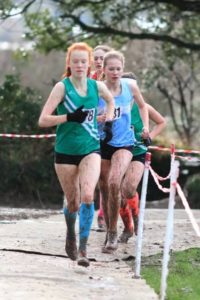 Hannah  won a bronze in the senior girls' race and admitted afterwards she felt a little below par after a hectic start to the year which has seen her win the South West Inter Counties title in Exeter, finish runner-up at the British Cross Challenge in Cardiff and then win the silver medal at the Midland Counties.
Ellie tracks Wiltshire's Caroline Brenchley on the opening lap at Truro
Saturday's race was her third hard competition on successive weekends so perhaps that to it toll as on another occasion she would be more than capable of beating the two girls ahead of her – the Cornwall pair of Katie Hughes and Sian Temple.
Nonetheless it was yet another solid performance by Hannah.
Foy younger sister Ellie, who has shot up in height over the past year, this was her second race of the year and the silver medal in a strong inter girls' race was one of her best performances on the country.
A third Avon medal in the girls' races was won by Bath King Edward School's Enya Maylor in the junior girls' race and the 13-year-old Team Bath AC newcomer is clearly a prodigious talent.