HANNAH Alderson and Jack Bancroft claimed a Bristol & West AC double in the Great Bristol 10k road race today.
In just her third race of the year, Alderson dominated the women's race to finish over three minutes clear of her nearest rival clocking a time of 35mins 04secs.
Remarkably that was a personal best carving 47 seconds off the mark she set way back in 2021 – the same year she represented Great Britain at the European Cross Country Championships in the under 23 women's race.
The time also puts Alderson top of the South West Rankings this year.
Clubmate Amy Partridge was runner-up, shaving 10 seconds off her PB with Cornwall legend Emma Stepto, a former winner of the half marathon, third. Lucy Richens was the top Westbury Harrier in fifth.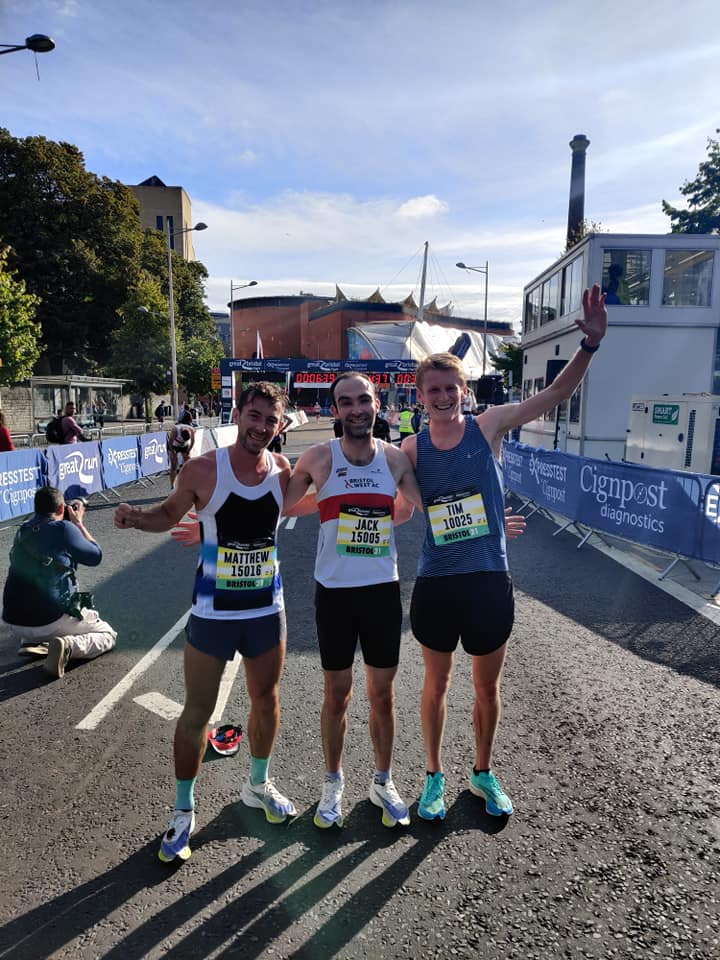 Bancroft (pictured centred right) enjoyed a 35 seconds gap over Tim Gordon with clubmates Richard Boyes and Nick Tuftnell also making the top twenty.
Women: 1 Hannah Alderson (B&W) 35:04; 2 Amy Partridge (B&W) 38:19; 3 Emma Stepto (CAC, W50) 38:58; 4 Rachel Underhill 40:38; 5 Lucy Richens (WH) 40:53; 6 Sarah Everitt (B&W) 41:16; 7 Jo Gallagher (Clevedon) 41:36; 9 Clare Jolliffe (B&W) 41:47; 13 Elissa O'Brien (B&W) 43:11; 14 Emma Jolliffe (B&W) 43:14; 15 Jo Thompson (TB, W55) 43:15; 19 Charlotte Hogan (B&W) 45:03; 22 Rebecca Huckett (WH) 45:26.
Men: 1 Jack Bancroft (B&W) 31:13; 2 Tim Gordon (Wirral) 31:48; 3 Matt Rees (Swansea) 32:14.
LOCAL: 6 Aaron Pritchard (TB) 33:22; 10 Richard Boyes (B&W) 34:29; 12 Nick Tuftnell (B&W) 34:42; 23 Gareth Hughes (B&W) 36:40; 24 Tariq Kurd (B&W) 36:47.