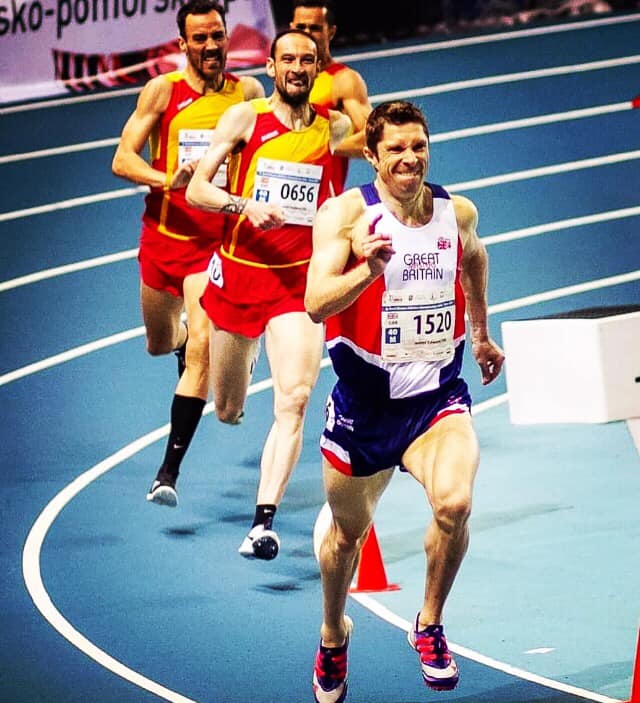 HE may have lived in Cardiff for many years now but James This is a regular presence on this blog.
The former Westbury Harrier, who was born and brought up in Clevedon, has strong links to the area – he coaches the Bristol & West pair of Charlotte Taylor-Green and Steve Mitchell – so it is only right that we should acknowledge his latest success on the boards.
Thie was always a superb competitor indoors and while, having just moved into the veterans over 40s age group, his quickest days may be behind him – 3mins 37.06secs for 1500m and 3:57.71 for a mile indoors at his peak – the honours just keep on rolling.
Last weekend Thie was in Poland for the World Masters Indoor Championships and he raced to arguably one of the best victories of his career as he lifted the gold medal in the M40 1500m.
"Had fun – nerves of racing, my family support, coaching group loving me out there racing and all the positive messages from everyone else," said Thie, pictured above striding towards victory and, right, taking centre stage on the podium.
"That's more than enough good reason to still be out there! Thanks for all the support."
The time of 4mins 07.33 is mostly irrelevant as championships are all about position and Thie, as he has so often in the past, showed the tactical acumen that has been his forte on the boards and made him such a dangerous opponent.
A truly brilliant performance by one of the sport's most popular guys.