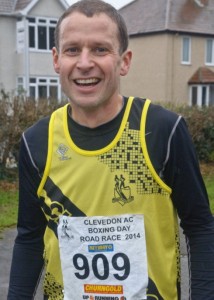 THERE are changes for the 2015/16 Weston Prom 5 mile race series.
Firstly there is a new race HQ at the Tropicana Bay Cafe, Marine Parade on Weston Promenade.
"This is a new cafe recently opened by North Somerset Council and has toilet facilities and adequate space for the new HQ," said a club spokesman for Weston AC.
"Parking is available along Marine Parade at £1.50 after 6pm or along Beach Road where it is free after 6pm."
The club has also re-measured the course to update their licence and have now changed the start and finish locations to be nearer to the new HQ.
Entry fees remain unchanged for the new series and as before the 1 mile junior race is free to enter for all young athletes.
Race Dates – Race 1: 24th Sep 2015; Race 2: 22nd Oct; Race 3: 19th Nov; Race 4: 17th Dec; Race 5: 21st Jan 2016; Race 6: 18th Feb; Race 7: 17th Mar; Race 8: 14th Apr; Race 9: 12th May.
The overall winners of the 2014/15 series were the Clevedon AC pair of Luke Murray (pictured) and Julie Poole.