HUGH Sad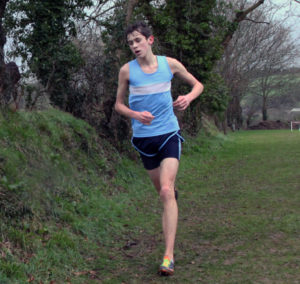 ler was the Avon star at the 2017 South West Schools' Cross Country Championships.
The 17-year-old Bristol Grammar School student (pictured left) ran a great tactical race holding off the front for the first lap before making a decisive move on the second big lap.
None of his rivals could live with that change of pace in very difficult conditions as the rain hammered down at Truro School so Sadler finally made it to the top of the podium at his fifth attempt having previously had two ninth places, a seventh and a silver medal at Cheltenham last year.
"This is my first win in the regional event and definitely my best ever," said Sadler.
Sadler's first major gold on the country came just seven days after winning silver in the Midland Counties Championships for his club Bristol & West AC while before Christmas he lifted the Tri-Counties title at Bath University.
The victory is also a success for coach Dave Bedwell, who has carefully guided the runner since taking him on from Alison Hurford.
Sadler also led Avon to the team silver medals with support from David Warnes (6th), Edie Narbett (11th), Joe Gentry (16th), Harry Leeming (23rd) and Tom Kerfoot (29th).